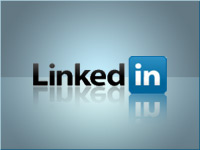 LinkedIn Logo
Another Social networking site LinkedIn to be listed on New york stock exchange under the symbol of ( NYSE:LNKD). It will become first US based social networking site to be listed on stock market after stunning listing of Chinese Largest social networking site Renren Inc ( NYSE: RENN) last week. Investors are excited about the social networking site IPOs.
LinkedIn plans to sell shares to investors for $32 to $35 each in an initial public offering, one of the first for a major U.S. social networking site.


The company said the offering could raise up to $274.4 million. LinkedIn estimates that its net proceeds, based on an IPO price of $33.50 per share, would be about $146.6 million after expenses.
LinkedIn's debut could pave the way for other popular online services that connect people with common interests — Facebook, Groupon and Zynga, for example — to go public Find More about these companies' IPOs here
LinkedIn, which focuses on job-related connections, has more than 100 million members. Facebook is much larger, with more than 600 million. Facebook has signaled that it's likely to file its IPO plans by the end of April 2012.
Most of LinkedIn's revenue comes from fees that it charges for recruiters and businesses that want expanded access to the website to help fill job openings. The company also sells online ads.
Last year, LinkedIn posted net income of $3.4 million on revenue of $243.1 million. In the first three months of this year, its revenue has more than doubled from the same period a year ago.
LinkedIn will offer 4.8 million shares. The company's stockholders, including founder Reid Hoffman, Bain Capital, Goldman Sachs and publishing company McGraw-Hill, plan to sell 3 million shares.
IPO analyst Scott Sweet said the company was expected to price its shares on May 18. LinkedIn expects to trade under the symbol "LNKD" on the New York Stock Exchange.
The company was started in 2003 and is based in Mountain View, California.
Morgan Stanley, BofA Merrill Lynch and J.P. Morgan are managing the offering.
( Source: The Associated Press )