Exact From my Buy level(5492-5511), NIFTY Bounced 5584...!
Yes, We are waiting for 5597-5632 Target
Ultimate Analysis on NIFTY Future

(9th May, 2011)
NIFTY Performed on Friday:
The NSE benchmark S&P CNX Nifty snapped its nine-session losing streak by gaining 91.60 points in early trade on Friday on renewed buying on easing of macroeconomic worries in view of a sharp fall in crude oil prices.
The Nifty futures closed and settled finally at 5555, down by 96.60 or (-1.77 %). It is looking bullish in the coming trading session if it manages to trade above the resistance level of 5595 else below support level of 5415 it would be in a downward trend.



Positional Trend with Levels See below links for more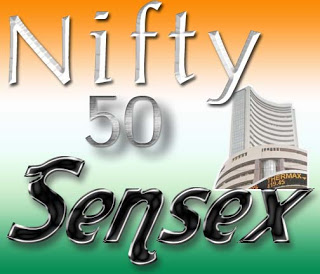 Sustenance above the 5500 levels will see the NIFTY gradually head higher towards the 5650-5687 levels. (Expected time zone 72hrs)
Above 5594, NIFTY may see 5669, 5706…Easily…? (Yes)
Yes, Everybody knows of Thursday of last week given to BUY Nifty fut. 5450 in small quantities…! (Your Stop loss is your bought price)
Note: This pull is not believable for ending of Bearish Trend but also not confirmation of Bullish fully
Therefore, Just Non-Stop 5688-5722 will be sign of Bulls for 5800-5840
Keep Patience of Accurate single and our levels
(New update will be below 5440 only)
Technical Data-Sheet on NIFTY:
Last (06/05/2011) close@5551 (+92 points)
Last high@5564 low@5472
Weekly high@5909 low@5443
5DMA@5563
20DMA@5764
50DMA@5631
200DMA@5752
Prediction of MoneyMunch.com Intraday
Buyers expected on two levels: 5449 to 5461(last hope) and 5492 to 5511
Today's Intraday Targets 5597 to 5632
(After closing above 5585, Nifty future will be strong pull back for targets 5677-5743 in 72hrs)
Just watch opening 5550 above
(For the 11 o' clock trading above this level…then intraday heavy buyers might come to test 5641-5663)
Note: In this case, you must be keeping Stop point as 5536-5531