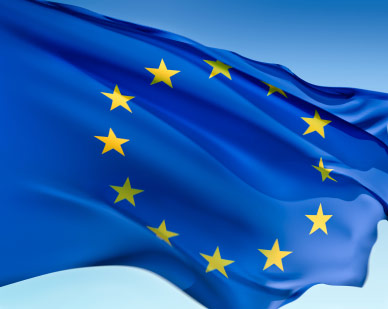 European Union Flag
The European debt crisis could spread across the continent in a major blow to the single currency, leading economists warned last night.
Turmoil in Greece, Ireland and Portugal may engulf the wider eurozone despite the billions of pounds already spent in emergency aid, according to the International Monetary Fund.
It urged European leaders to fix the banking system and slash national deficits to restore confidence to the region.
In its latest report on Europe, it said economically weak countries could still drag their stronger neighbours down.
The report said: 'Strong policy responses have successfully contained the sovereign debt and financial-sector troubles in the euro area periphery so far. But contagion to the core euro area and then onward to emerging Europe remains a tangible risk.'
European finance ministers are set to approve a £68billion rescue plan for Portugal on Monday, including around £4billion from Britain. This follows the £96billion bailout of Greece and the £75billion bailout of Ireland last year.
But fears are mounting that Greece still cannot afford to pay back its debt of £285billion and may require more support to prevent default.
Jose Manuel Gonzalez-Paramo, of the European Central Bank, said: 'A default would have extreme adverse consequences, many of an irreversible nature, for the Greek economy.'
The IMF warned 'a shock to confidence could spread quickly throughout Europe'.
European director Antonio Borges promised to provide more aid to Greece if necessary, adding: 'So far they have not approached us. The IMF stands ready.'
It said forthcoming stress tests on European banks must be used to force weak institutions to shore up their finances, and members of the eurozone needed to make 'unrelenting' efforts to reduce their national deficits.
The report predicts the eurozone will grow by 1.6 per cent this year and 1.8 per cent in 2012 if the debt crisis is contained.