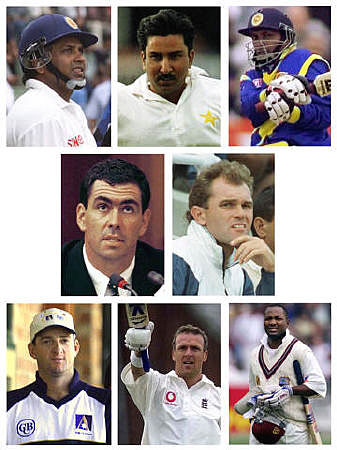 Cricket Match Fixing
Here's a rundown of match-fixing allegations to have hit the game:
1979-80
A suspicious incident, which has been sometimes used as an example of match fixing, can be traced back to the Test series between India and Pakistan in 1979. It happened in the final Test at Calcutta when Asif Iqbal reportedly picked up the coin and told GR Viswanath that India had won the toss. It was Sarfaraz Nawaz who made this allegation two decades later.
1981
Australian players Dennis Lillee and Rodney Marsh bet against their own team. England, following on in that match, were given 500-1 odds of winning. Ian Botham and Bob Willis scripted a remarkable turnaround; England won against all odds and went on to win the Ashes. No action was taken against the two Australians.
1992-93
Australian batsman Dean Jones claims to have been offered $50,000 by an Indian to provide information about the team during the Lankan tour.
1993
Allan Border alleges that he was offered £500,000 by Mushtaq Mohammed to lose a Test match against England.
1996
Former Indian team manager, Sunil Dev alleges that some Indian players indulged in match fixing and demands a judicial enquiry.
1997
Manoj Prabhakar accuses an India team-mate of offering him Rs 25 lakh to throw a Singer Cup match in Sri Lanka in 1994. His revelation leads the BCCI to appoint a commission to look into the allegation.
1998
Pakistan bowler Ata-ur-Rahman accuses Wasim Akram of offering him Rs 3 lakh to bowl badly against New Zealand. As a result of this allegation, Wasim Akram resigns as captain of the Pakistan team.
1998
Rashid Latif accuses Wasim Akram, Salim Malik, Inzamam-ul-Haq and Ijaz Ahmed of fixing matches. He also accuses Salim Malik of fixing matches during Pakistan's twin tour of South Africa and Zimbabwe in 1994-95.
1998
Mark Waugh, Shane Warne and Tim May claim they were offered $50,000 to lose a Test by Salim Malik during their tour to Pakistan in 1994. The Australian cricket board then asks the ICC to appoint a panel to look into the allegations. The PCB in its enquiry implicates three Pakistan players and recommends a ban on Salim Malik.
1998
Shane Warne and Mark Waugh confess to having accepted $11,000 from an Indian bookie to give some information on playing conditions during a tournament played in Sri Lanka in 1994. The Australian cricket board later says that it would impose a hefty fine on Warne and Waugh.
1999
Former England player Chris Lewis says that he was offered £300,000 to persuade England players to lose a match against New Zealand.
April 7, 2000
Delhi police charge Hansie Cronje with fixing South Africa's ODIs against India. Delhi police also reveal that they possess a conversation recorded during the ODI series between India and South Africa in March. They allege that the taped voices were of South African skipper Hansie Cronje and an Indian bookie, Sanjay Chawla. The conversation was about divulging team information and the amount to be paid to Cronje and his team-mates Herschelle Gibbs, Pieter Strydom and Nicky Boje.
April 9, 2000
Hansie Cronje vehemently denies the charges levelled against him saying, "I have never received any sum of money for any match that I have been involved in and have never approached any of the players and asked them if they wanted to fix a game."
April 11, 2000
The South African cricket board sacks Hansie Cronje after he calls Ali Bacher to confess that he was "not entirely honest" and admitted that to have accepted $10,000 to $15,000 from a London-based bookmaker, for forecasting results, not match-fixing.
April 15, 2000
Clouds of match fixing surround England's victory in the Centurion Test, where Cronje took the unexpected step of forfeiting an innings.
April 16, 2000
It is revealed that South Africa nearly accepted $250,000 to lose an ODI against India in Mumbai in 1996. The players had discussed the offer in three meetings before it was turned down as Jonty Rhodes, Dave Richardson and Andrew Hudson were against it.
May 24, 2000
After a year-long enquiry, Justice Qayyum finds Saleem Malik and Ata-ur-Rehman guilty of fixing matches and recommends life bans for the two. The report also says Wasim Akram and Mushtaq Ahmed should not be allowed to captain Pakistan in the future.
June 7, 2000
Former South African spinner Pat Symcox reveals that the team was offered around $250,000 to throw an ODI, on the first day of the King Commission hearings.
June 8, 2000
Herschelle Gibbs accuses Hansie Cronje of offering him a bribe to throw a match and tells the King Commission that he had accepted Cronje's offer of $15,000 to score less than 20 runs in an ODI in India. But by scoring 74, he had reneged the offer. He claimed he had forgotten about the offer after going to bat. Similarly, pacer Henry Williams was asked to concede more than 50 runs in his ten overs - an offer he blew by injuring himself in his second over.
June 15, 2000
Cronje admits to taking money for giving information to bookmakers and asking his team-mates to play badly. But he tells the King Commission that South Africa had never thrown or fixed a match under his captaincy.
June 27, 2000
Former Commissioner of the Metropolitan Police Sir Paul Condon becomes the International Cricket Council's new anti-corruption investigator.
July 20, 2000
Indian income tax officials raid the homes of top cricket players, including those of then national coach Kapil Dev, former players Azharuddin, Ajay Jadeja, Nayan Mongia and Nikhil Chopra.
August 28, 2000
The United Cricket Board of South Africa bans Herschelle Gibbs and Henry Williams from international cricket for the rest of the year for their involvement in the Cronje scandal.
October 11, 2000
Cronje is banned from cricket for life by the United Cricket Board of South Africa as a result of his admission that he received money from bookmakers.
"The UCBSA council hereby intends to ban Hansie Cronje for life from all activities of the UCBSA and its affiliates," says a statement issued by the United Cricket Board of South Africa.
October 31, 2000
Bookmaker MK Gupta names several players including Brian Lara, Dean Jones, Alec Stewart, Arjuna Ranatunga, Aravinda de Silva, Martin Crowe and Saleem Malik of being involved in match fixing, says a CBI report. The CBI also says that former India captain Mohammad Azharuddin confessed to fixing games with the help of colleagues Ajay Jadeja and Nayan Mongia.
November 27, 2000
BCCI's anti-corruption commissioner K Madhavan finds Mohammad Azharuddin guilty of match-fixing, while Ajay Jadeja, Manoj Prabhakar, Ajay Sharma and former Indian team physio Ali Irani are found guilty of having links with bookies.
December 5, 2000
BCCI bans Azharuddin for life and Ajay Jadeja for five years for their role in match-fixing. Ajay Sharma is also banned for life, while Prabhakar and Ali Irani are barred from holding any official post in Indian cricket for five years.
July 11, 2001
Former England wicketkeeper batsman Alec Stewart is cleared of allegations that he took money from a bookmaker in return for providing team and pitch information during England's 1992-93 tour of India.
May 12, 2004
Marvan Atapattu is cleared of match-fixing allegations for lack of evidence by the Sri Lankan Cricket Board.
August 17, 2004
Kenyan player Maurice Odumbe is banned for five years by the Kenyan Cricket Association after he is found guilty of receiving money from bookmakers.
November 7, 2004
Stephen Fleming alleges that he was offered $370,000 during the 1999 World Cup to join a match-fixing syndicate.
May 13, 2008
West Indies player Marlon Samuels is slapped a ban of two years for allegedly passing on information to an Indian bookie during an ODI series in India in 2007.
October-November 2008
Chandigarh Lions, a team in the Indian Cricket League, suspends Dinesh Mongia and Chris Cairns on "disciplinary grounds." Murmurs of corruption in the unofficial league were ripe. ICL didn't specify what the players were suspended for.
August-November 2010
A bookie is caught on video during a tabloid sting showing Salman Butt, Mohammad Asif and Mohammad Aamer conspiring to bowl deliberate no-balls during specific moments in the Lord's Test against England. Amidst intense media scrutiny, police investigation and PCB's refusal to act on the grim matter, ICC provisionally suspended the three tainted players.
October 2010
ICC mulls planting secret agents to monitor cricketers. The idea is rubbished by player associations.
November 2010
Pakistan wicketkeeper Zulqarnain Haider fled to UK while the team was in Dubai playing South Africa. He said he had retired from Test cricket and had been receiving death threats after guiding his team to a one-wicket win.
February 2011
Salman Butt banned for 10 years, Mohammad Asif seven and Mohammad Aamer five for their involvement in the spot-fixing scandal of 2010.
April-May 2011
Former Sri Lanka captain Hashan Tillakaratne says fixing has been rampant in their cricket since 1992. He says he'll reveal names of the culprits to the ICC.
( Source: Yahoo )