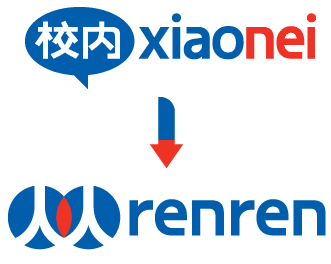 Renren Inc
Chinese Facebook Clone to list in US this week expected on May 4 wednesday with a price band of $12 to $14. Investors are betting on listing gains.
When investors see words China and company's IPO together, most of them are blindly get in to those scripts ignoring risks involved if any. It was true if we look at the initial offerings of Internet search engine Baidu Inc and online video hosting site Youku.com. as they have logged triple digit percentage gain after listings. Investors are expecting same response for another upcoming chinese offering this week Renren Inc, a social networking site. Most of the investors are lured by the words of "Chinese" and "Social Networking".
The reason behind the appetite for this offering among the investors is because it is related to hot sector U.S. Facebook, the biggest social network company in the world and has a market value of somewhere around $70 billion, based on a share sale currently being contemplated, making it worth more than companies such as Boeing Co.
The demand for Renren shares was clear on Friday when the company raised the expected price range of its IPO by 30 percent to $12 to $14 per share.
"Appetite to invest in China right now is so strong that some investors are willing to ignore factors that they wouldn't in other markets," said Mark Natkin, managing director of Marbridge Consulting, a Beijing-based company that advises investors on China's Internet and telecommunications sectors.
Renren's IPO filings do raise a handful of very serious questions.
1) Renren doesn't really seem sure how many users it has.
According to its April 27 revised IPO filing, the Chinese Facebook clone's monthly unique log-in user base grew by only 5 million, or 19 percent, in the first quarter of 2011 - not the 7 million, or 29 percent, it reported in its first filing only 12 days earlier.
Some investors and analysts brush off such red flags -- after all China is the biggest Internet market in the world and it is growing rapidly.
Others say the opaque information is a big problem. "If you can't validate the numbers or the company proves it doesn't have a good handle on the numbers, then you've got to be concerned," said Gary Rieschel, founder of Qiming Venture Partners, which is an investor in Renren rival Kaixin001.
2) Another possible risk for investors is the government tight regulations as we see a case from Google Inc. last year.
Chinese authorities keep extremely close tabs on Internet companies, arguing that this is necessary to maintain social harmony. This led to a big bust up between Google Inc and the Chinese government last year that ended with Google curtailing its operations in the country.
Renren says in the risk factors section of its IPO prospectus that this means a prohibition against posting content that, among other things, "impairs the national dignity of China" or is "superstitious."
The prospectus doesn't mention the recent Middle Eastern uprisings, which led to a crackdown on the use of certain words on the Internet in China, but it does say Renren may not post content that is "socially destabilizing."
If Renren fails to comply, the company says that its websites could be shut down. Clearly that could put it out of business.
Whether a social network page posting is objectionable is determined by the Chinese authorities. Renren is also required to monitor advertisements on its websites, some of which are subject to special government review before they are posted.
Renren must even guard against providing services that may lead to its users finding themselves in "emotionally charged situations."
3) Material Weakness
The company also said in its filings that while it hasn't conducted a comprehensive review, it found a "material weakness" and a "significant deficiency" in its internal financial controls: Renren doesn't have enough people with knowledge of U.S. generally accepted accounting principles. It also lacks a formal policy for investing surplus cash and managing its treasury
4) Functions
That's not unusual for Chinese IPO companies. Neither is the fact that 87 percent of Renren's leased floor area did not have the proper title documents. But it all paints a picture of a company that is far from risk free.
Still, it isn't difficult to find people who will give it the benefit of the doubt.
"Given the investors it has who have board seats and who work closely with it, you would expect any major issues to have turned up by now," said Nick Einhorn, an analyst at Connecticut-based IPO research and investment house Renaissance Capital.
Renren's investors include private equity firm General Atlantic and venture capital firm DCM.
Renren may also face some heat over intellectual property questions. When social networking website Kaixin001.com started taking off, Renren founder and CEO Joseph Chen launched a matching site with a similar color scheme and layout under the name Kaixin.com. Kaixin001.com won a lawsuit that ultimately resulted in Chen changing the name of another of his social
networking sites to Renren, and merging Kaixin.com into Renren.
Sources have told Reuters that Kaixin001 is also planning a U.S. IPO. Renren in its IPO filings also said that its social networking platform may be subject to patent infringement claims, and mentions Facebook as one of the potential claimants.
Still, while Renren has posted losses in each of the past two years, it could still be a dream growth stock. Its net revenue grew more than fivefold to $76.54 million in 2010 from $13.78 million in 2008.
But there will be some who, after reading the prospectus, may wonder whether the risks outweigh the rewards.