A German man was sentenced to six months in federal prison Monday

for bringing hundreds of tarantulas into the United States by mail.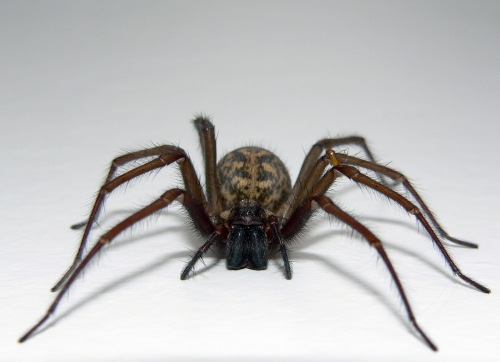 Spider
U.S. District Judge S. James Otero said he hoped the sentencing of Sven Koppler, 37, of Wachtburg, Germany, would deter others from trying to smuggle animals into the U.S.
Court documents filed in the case estimated the illegal wildlife trade generates as much as $20 billion a year.
Koppler earlier this year pleaded guilty to one count of smuggling goods into the U.S. and faced up to 20 years in prison. Prosecutors had recommended Koppler serve 10 months.
Koppler portrayed himself as a spider breeder and said shipping the arachnids is legal in Europe and other countries.
"I just can say I'm very sorry about what happened and it wasn't my intention to defraud anyone or anything," said the slender Koppler, who wore a dark suit and striped tie in court. "I definitely would not do this again."
Federal prosecutors said Koppler sold thousands of tarantulas to more than 50 people in 16 countries between 2008 and 2010. Some of the spiders, including a protected Mexican species, were mailed by Koppler from Germany to Los Angeles.
Fish and Wildlife Service agents intercepted the packages then posed as customers and ordered dozens more spiders. Koppler made nearly $350,000 by selling spiders, authorities said.
Federal public defender Neha Mehta said her client's reputation has been tarnished, and no one will be willing to do business with him in the future.
"He has spent his whole life for the preservation of wildlife," Mehta said. "He had no intention of harming any wildlife."
Koppler said many of the spiders he shipped were babies. However, Assistant U.S. Attorney Mark Williams said some of the animals were adults and measured six inches long.
Williams also noted Koppler purposely mislabeled the protected tarantulas to avoid detection by U.S. customs.
Koppler also must pay $4,000 in fines and will be placed on three years of probation. He will likely be deported to Germany once he finishes his sentence.
( Source: Associated Press )