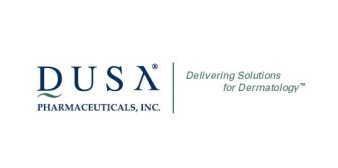 DUSA Pharmaceuticals Logo



DUSA Pharmaceuticals Inc ( NASDAQ: DUSA) today announced its quarterly results ended on March 31 2011, company has reported an improved revenue growth ( 27%) from products on YoY basis. Stock has jumped 21 % to $5.50 and has a strong momentum with higher volumes, it might break its 52 week range and trade above $ 6.14. It might be good strategy to enter the stock as an investment purpose and wait for next quarterly results as company is improving in terms of revenue and profits.
Dusa Pharmaceutical Inc ( NASDAQ:DUSA) is a dermatology company that is developing and marketing Levulan® Photodynamic Therapy (PDT) and other products focused on patients with common skin conditions.
Highlights for the first quarter include:
-Total product revenues were $11.1 million for the quarter, representing a $2.4 million or 27% year-over-year improvement.
-Domestic PDT revenues totaled $10.7 million for the quarter, representing a $2.6 million or 33% year-over-year improvement.
-Domestic Kerastick® revenues totaled $10.2 million for the quarter, representing a $2.6 million or 35% year-over-year improvement.
-Kerastick® gross margins for the quarter reached a record high at 89%.
-The Company experienced a $1.8 million bottom line year-over-year improvement on a non-GAAP basis for the quarter.
-The Company generated $1.4 million in positive cash flow (change in cash and cash equivalents and marketable securities) during the first quarter of 2011.
-The Company expanded its sales force to 45 with the addition of 5 individuals.
DUSA's non-GAAP net income for the first quarter of 2011 was $1.8 million or $0.07 per common share, compared to breakeven in the prior year period. The improvement in the Company's profitability was mainly the result of the year-over-year increase in our PDT revenues, which was partially offset by an increase in our operating costs.
DUSA's net loss on a GAAP basis was $0.6 million or $0.02 per common share for the first quarter of 2011, compared to a net loss of $0.4 million or $0.02 per common share in the first quarter of 2010. Our financial results on a GAAP basis have been negatively impacted by the fair value accounting over the warrants issued in conjunction with a 2007 equity financing transaction. The fair value accounting of the warrants is subject to significant fluctuation based on changes in our stock price. Appreciation in DUSA's stock price has resulted the recording of significant non-cash charges related to the change in the fair value of warrants in our Statement of Operations. The non-cash charges recorded in the first quarter of 2011 and 2010 were $2.2 million and $0.2 million, respectively.
As of March 31, 2011, total cash, cash equivalents, and U.S. government securities were $21.1 million, compared to $19.6 million at December 31, 2010, representing an increase of $1.4 million during the quarter.
Other updates:
At present, we are continuing to evaluate the initiation of a DUSA-sponsored clinical trial designed to study the broad area application and/or short drug incubation, or BASDI, method of using the Levulan® Kerastick®. The protocol objectives would be to compare the safety and efficacy of various incubation times (1, 2 or 3 hours) of Levulan® plus BLU-U®PDT versus vehicle plus BLU-U® for the treatment of multiple actinic keratoses of the face or scalp. The timing on the initiation of this study has been delayed as we refine the protocol in consultation with outside experts. We expect to complete our evaluation and determine next steps in the coming months.
( Source : Dusa Pharmaceuticals Inc )