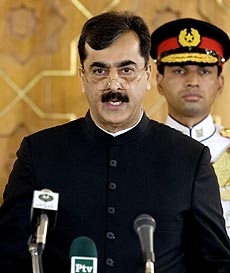 Pakistan Prime Minister Gilani
ISLAMABAD (Reuters) - Pakistan, in apparent reference to old rival India, said on Thursday any country that tried to raid its territory in the way U.S. forces did to kill Osama bin Laden would face consequences from its military.
Foreign Secretary Salman Bashir dismissed any suggestion the Pakistani military or its main spy agency had been involved with al Qaeda, while issuing a blunt warning against any further intrusions.
"We feel that that sort of misadventure or miscalculation would result in a terrible catastrophe," he said. "There should be no doubt Pakistan has adequate capacity to ensure its own defence."
U.S. special forces launched the Monday morning raid without the knowledge of Pakistan officials, with helicopter-borne soldiers attacking a compound in Abbottabad, north of the capital, killing bin Laden and several others.
Pakistan has been under international pressure to explain why the al Qaeda chief was able to hide in a compound in a hill town near its capital.
The military has been criticised over the perceived violation of Pakistan's sovereignty. Bashir's comments, while apparently directed at India, also seemed aimed at reassuring the public the military was capable of defending the country.
While few in Pakistan supported bin Laden and his ideology, violations of sovereignty can provoke street protests and media outrage.
The fact that bin Laden was found hiding in a garrison town, near Pakistan's main military academy, has led to speculation the country's main Inter-Services Intelligence (ISI) security agency was in cahoots with him.
Bashir reacted that.
"The critique of the ISI is not only unwarranted, it can not be validated," he said.
He also echoed comments from Prime Minister Yusuf Raza Gilani, who said on Wednesday the world shared in the failure to find bin Laden.
"If it was an intelligence failure ... then it was a global intelligence failure," Bashir said.
"That the ISI is incompetent is a value judgment," he added. "And we believe that this is not the time for anybody to indulge in the luxury of passing value judgments." Read more stories about Pakistan and Alqaeda see below links