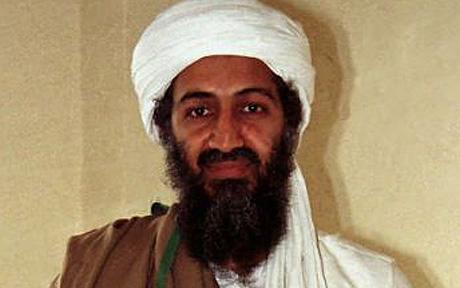 Osama Bin Laden
Newly released videos show Osama bin Laden inside his hideout, watching himself on television and rehearsing for terrorist propaganda videos.
The videos, released by U.S. intelligence officials Saturday, were offered as further proof that Navy
SEAL
s killed the world's most wanted terrorist this week. But they also served to show bin Laden as vain, someone obsessed with his portrayal by the world's media.
One of the movies shows bin Laden, wrapped in a brown blanket and holding a

remote control, flipping back and forth between clips of himself. The small television was perched on top of a desk with wires running to a nearby cable or control box.
In another, he has apparently dyed and neatly trimmed his beard for the filming of a propaganda video.
The videos were seized from bin Laden's compound in Abbottabad, Pakistan. Officials said the clips shown to reporters were just part of the largest collection of senior terrorist materials ever collected.
The evidence seized during the raid also includes phone numbers and documents that officials hope will help break the back of the organization behind the Sept. 11, 2001 terrorist attacks.
For years, when it was assumed that bin Laden was living in Pakistan's rugged, mountainous tribal region, officials assumed bin Laden might not be able to get real-time news. After the CIA discovered bin Laden's suburban compound, they realized that a satellite dish provided a television feed to bin Laden's compound.
Watch the video:
Meanwhile, prominent Pakistani lawmakers called for President Asif Ali Zardari and other senior government officials to resign Saturday after the American raid that killed Osama bin Laden and embarrassed the nation.
Pakistani officials have said they were totally in the dark, a hard thing for many Pakistanis to believe since bin Laden was holed up in Abbottabad, an army town only two and a half hours' drive from the capital, Islamabad.
Former Foreign Minister Shah Mahmood Qureshi, who is now a lawmaker for the ruling Pakistan People's Party, fixed the blame squarely on Zardari and Prime Minister Yousuf Raza Gilani — likely motivated in part by past conflict with the two men.
"This is a great violation of our sovereignty, but it is for the president and prime minister to resign and no one else," Qureshi told reporters in the central Pakistani city of Lahore.
Chaudhry Nisar Ali Khan, the main opposition leader in parliament, said the country's powerful army and intelligence chiefs should also step down. They are believed to control the real levers of power in Pakistan.
"All from top to bottom who are responsible should take responsibility, and I believe that after such a big tragedy, they should resign," Khan told reporters in Lahore. "This is a call coming from every street of Pakistan."
( Source: The Associated Press)