A New York court appearance by IMF chief Dominique Strauss-Kahn to face charges he sexually assaulted a hotel maid has been postponed until Monday so he can undergo an examination, his lawyers said on Sunday.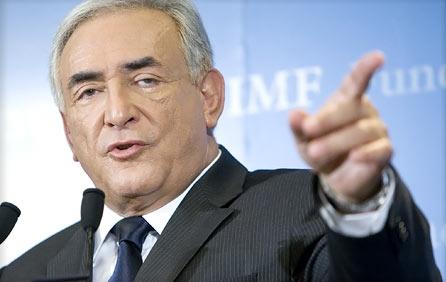 Dominique Strauss Kahn
"Our client willingly consented to a scientific and forensic examination tonight ... at the request of the government and in light of the hour we have agreed to postpone the arraignment until tomorrow morning," lawyer William Taylor told reporters outside Manhattan Criminal Court.
"He's tired but he's fine," Taylor said when asked about Strauss-Kahn.
IMF Postpones Meeting
The IMF on Sunday said it had postponed a scheduled meeting of its board meant

to discuss the arrest of IMF chief Dominique Strauss-Kahn for the alleged sexual assault of a hotel maid.
"The tentatively scheduled informal briefing of the Executive Board has been postponed pending further developments in New York," IMF spokesman William Murray said in a statement
He did not say when the meeting would be held.
( Source: Reuters )