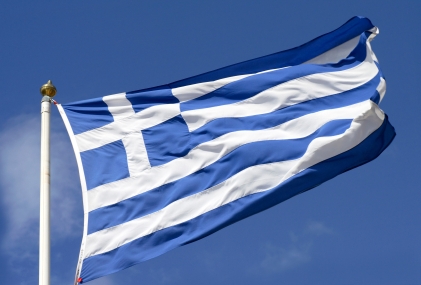 Greece Flag
Standard and Poor's cut Greece's rating to B from BB-, dragging it further into junk territory over concerns that a debt restructuring is increasingly likely.
"In our view, there is increased risk that Greece will take steps to restructure the terms of its commercial debt, including its previously-issued government bonds," the agency said in a statement, warning that more downgrades could come.
It said its projections suggest that principal reductions of 50 percent or more could be needed to restore Greece's debt burden to a sustainable level.
Greece, whose fiscal slippages triggered Europe's debt crisis, is rated junk by all three major rating agencies.
Earlier on monday former Greek finance minister & president of the Centre for Progressive Policy Studies told CNBC speculation over the weekend that Greece could leave the euro was "utterly unrealistic and would be a "catastrophe" for the country and for the wider European.
Papantoniou said any such move would put Greek debt to beyond 200 percent of gross domestic product which would be absolutely astronomic while for Europe the move would herald the dissolution of the euro zone, which was "not in the interest of anybody."
"I think we should forget this and cease talking about it in an official manner; of course we cannot prevent people like heads of research centers talking about it. But it is totally unrealistic and out of the agenda," he said.
He added that finance ministers across Europe needed to focus on how to help Greece repay its debt and regain its credibility in the markets and called on the Greek government to accelerate its plans to deal with its debts and reshape its economy.
Carl Weinberg, the chief economist at High Frequency Economics also told CNBC that talk of Greece leaving the euro is "plainly ridiculous." Read other stories here >>




( Source; Reuters, CNBC )