State-run Steel Authority of India plans to launch the first of its two-phase follow-on share sale June 14, Chairman C.S. Verma said Monday.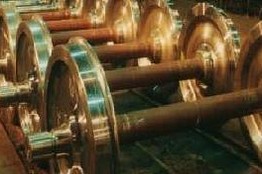 Steel Authority of India
Steel Authority of India expects to raise 60 billion rupees from first tranche of its follow-on share sale on June 14.
"Given the current market conditions, we expect to raise 60 billion rupees from the share sale," Mr. Verma said.
The stock was 2% down at 152 rupees on the Bombay Stock Exchange

in afternoon trading, underperforming the benchmark index's 1% decline.
The Indian government plans to sell a 5% stake the country's largest steel producer in the first phase, while the company will issue an equal amount of new equity through new shares. The second phase will also comprise a similar equity issue, taking the total stake on offer to 20% and the expected proceeds to 120 billion rupees.
Steel Authority, where the government now holds an 85.82% stake, is among several state-run companies in which the government plans to sell a minority stake to raise 400 billion rupees in the current fiscal year for social-sector projects. The proceeds from selling newly issued shares will go to the company.
The share issue was initially planned for the last fiscal year ended March 31, but was delayed due to market volatility. The government last week restarted its disinvestment process with the launch of Power Finance Corp.'s 46.6 billion rupees offering.
Mr. Verma said Steel Authority will use the proceeds from selling new shares to part-fund its expansion and meet capital expenditure for the current fiscal year.
Steel Authority is in the process of raising its hot metal production capacity to 23.5 million metric tons by the end of the fiscal year through March 31, 2013 from the present 14.6 million tons at a total cost of 700 billion rupees.
The first phase of Steel Authority's share sale will remain open to retail investors until June 17, the chairman said, adding that the company is considering giving a 5% price discount to retail investors and employees.
Mr. Verma said the company will start overseas promotional programs for the share offering by the end of May.
A senior steel ministry official, who spoke on condition of anonymity, said the company's road shows in Singapore and Hong Kong will happen between May 24 and May 27, while those in the U.S will take place from June 2 to June 7 and in Europe between June 1 and June 6.
The company's board is scheduled to meet May 23 to clear the initial prospectus for the share sale, the official said.
Steel Authority is expected to file its share sale prospectus with the capitals market regulator on June 1, he added.