The space shuttle Endeavor embarked on its 25th and final flight on Monday,

taking the $2 billion Alpha Magnetic Spectrometer particle detector, supplies and spare parts to the International Space Station.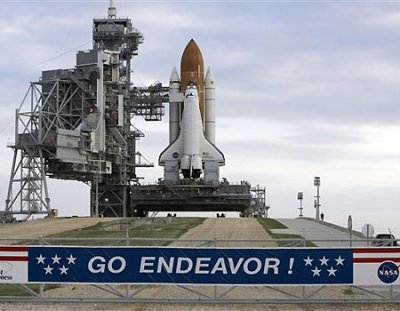 Endaevor Space Shuttle
The flight will be the 134th for NASA's shuttle program, with one mission to follow this summer before the fleet is retired.
Here are highlights of Endeavor's mission, which is scheduled to last 16 days:
Endeavor is carrying a new type of science instrument, called the Alpha Magnetic Spectrometer, or AMS, which will make detailed studies of high-energy cosmic rays. The device, built by an international consortium of 60 research agencies, will be mounted outside the space station.
Also aboard Endeavor are spare parts, including 10 circuit breakers, two communications antennas, a tank of ammonia coolant, a high-pressure oxygen tank for the station's airlock and a spare arm for the station's robotic crane.
Endeavor's astronauts will conduct four spacewalks to install a materials science experiment, refill an ammonia coolant reservoir and conduct other station maintenance.
A 50-foot (15-meter) extension for the shuttle's robot arm, developed for in-flight inspections after the 2003 Columbia accident, will be left behind at the station for use by its robotic crane.
The crew also will test sensors being developed for NASA's new deep-space exploration vehicle called Orion.
Endeavor will be the second of NASA's three space shuttles to be retired this year. After its mission, Endeavor will go on display at the California Science Center in Los Angeles.

( Source: Reuters )