Penny Stock NeoMedia Technologies, Inc ( OTC: NEOM ) exploded 266% with a sharp spike in volumes after announcement of approval in the reexamination of its US Patent 6199048. Traders might see an opportunity to trade stock today. One might wait for opening movement in the stock today and then initiate buy positions for decent gains.
Below is the Press Release: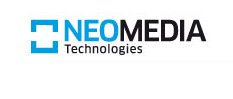 NeoMedia Technologies Inc
NeoMedia Technologies, Inc. (OTC BB: NEOM.OB), the global leader in mobile barcode scanning solutions, announced today that the United States Patent and Trademark Office (PTO) has ruled in favor of NeoMedia in the second re-examination of its US Patent 6,199,048, 'System And Method For Automatic Access Of A Remote Computer Over A Network'. All 89 existing claims, as well as six newly added claims, of the Barcode Lookup Patent have been confirmed as being patentable by the PTO.
The PTO's decision, which marks the final chapter in a lengthy process following a successful first reexamination proceeding that ended in confirmation of the patent in 2009, provides tremendous opportunities for companies in the mobile marketing and advertising space, allowing them to quickly implement new applications and services.
"We are delighted the PTO has again confirmed the strength of the '048 patent in the face of another third-party challenge to its validity. This ruling allows us to realize the potential of our efforts and innovations, further strengthening our partnerships," said Laura Marriott, Chief Executive Officer of NeoMedia Technologies, Inc.
"We are extremely pleased that this patent has again withstood the extreme scrutiny of a Patent Office reexamination proceeding. Confirmation of a patent challenged by reexamination twice in four years in highly unusual, and we firmly believe this puts the issue of the validity of this patent to rest," said Tony Barkume of Barkume & Associates, P.C., patent counsel for NeoMedia.
Full details of the PTO ruling are detailed in the Notice of Intent to Issue Ex-Parte Reexamination Certificate (NIRC) issued by the examiner. To learn more about NeoMedia's product portfolio visit www.neom.com.
About NeoMedia:
NeoMedia Technologies, Inc. is the global market leader in 2D mobile barcode technology and infrastructure solutions that enable the mobile barcode ecosystem world-wide. Its technology platform transforms mobile devices with cameras into barcode scanners, enabling a range of practical and engaging applications including consumer oriented advertising, mobile ticketing and couponing, and business-to-business commercial track and trace solutions.


NeoMedia's suite of products, services and extensive IP portfolio means it is the only provider able to offer customers a comprehensive end-to-end mobile code solution. NeoMedia's current customers include handset manufacturers, platform providers, brands and agencies looking to offer pioneering mobile barcode solutions to their customer base.
NeoMedia's product portfolio includes: mobile barcode management & infrastructure solutions, barcode reader solutions, Mobile Coupon & Affiliate Marketing, Mobile Ticketing & POS Integration and IP Licensing. Learn more at www.neom.com