Ratings agency Standard and Poor's cut its credit rating on Tokyo Electric Power to junk status on Monday, saying the utility's lenders were more likely to be forced to write off debt as part of a plan to compensate victims of an ongoing nuclear crisis.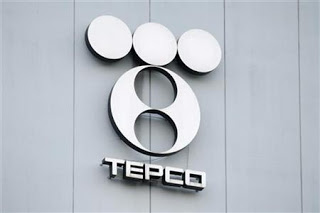 Tokyo Electric Power Logo
S&P said it had lowered the long-term credit rating of Tokyo Electric, one of the most active bond issuers in Japan, to B+ from BBB, while cutting the rating on the utility's secured bonds to BB+ from BBB.
The ratings agency said it viewed a default on the utility's 5 trillion yen ($62 billion) in corporate bonds as less likely than a restructuring of its bank debt.
Japan's government earlier this month agreed to set up a fund with taxpayer money to help Tokyo Electric, known as Tepco, avoid insolvency and compensate victims of the radiation crisis at its Fukushima Daiichi nuclear plant.
Reactor cooling systems were knocked out by the March 11 earthquake and tsunami, causing a meltdown at three of the reactors and forcing the evacuation of about 80,000 residents near the plant.
But Chief Cabinet Secretary Yukio Edano has said the government scheme, which still needs parliamentary approval, would be unlikely to gain public support unless Tepco's banks agreed to waive some of the debt they are owed by the utility, a step they have resisted.
S&P said a restructuring of Tepco's bank debt would be a "selective default," and it now regarded the probability of "extraordinary" Japanese government support for Tepco as "high" rather than "very high," the phrase it had previously used.
"Standard & Poor's now believes that some politicians think banks should share the burden in some form, which may fall into our definition of default," S&P said in a statement. "We now think such a scenario is more likely than previously thought."
Tepco is Japan's largest corporate bond issuer, and its shares are widely held by financial institutions.
S&P said it was still unclear how much Tepco would have to pay in compensation for people who have suffered damages because of the Fukushima disaster. But the ratings agency said it believed that the Japanese government would intervene to prevent a disruptive default on Tepco's bonds.
"The Japanese bond market would suffer a negative impact if Tepco were to default on its bond payments," the ratings agency said. "We believe the Japanese government has an economic incentive to avoid such a scenario."
Moody's Investors Service said on May 19 it might review Tepco's credit ratings if Japan failed to pass laws to help the utility handle compensation payments related to the plant.
Estimates for the cost of the compensation to be paid to displaced residents and disrupted business ranged as high as $130 billion in an extended crisis, according to one calculation by Bank of America-Merrill Lynch.
By comparison, BP earmarked just $20 billion for its oil-spill clean-up fund run by an overseer appointed by the Obama administration.
Sumitomo Mitsui Financial Group is the main bank for Tepco, Japan's largest and most politically connected utility.
SMBC had an estimated $11 billion in exposure to Tepco after an April lending round, according to CreditSights. The analysis service put the total for Mizuho Corp. at the equivalent of $8.5 billion, and at $5.8 billion for Bank of Tokyo-Mitsubishi.
( Source: Reuters )