LinkedIn ( NYSE: LNKD ) set a price for IPO offerings at $ 45 per share, 30 % above than initial target of $ 32 to $ 35 a share. Shares of the company will start trading at NYSE under the ticker of LNKD from today ( Thursday May 19 2011 ). It will be first US based social networking site to be listed on US stock markets in NYSE.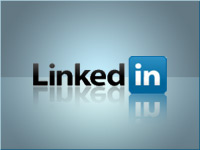 LinkedIn logo( NYSE: LNKD )
Earlier, company was planning to offer a share at $ 32 to $ 35 which was calculated as 12 times of its 2010 sales. Another Chinese Social networking site Renren Inc ( NYSE: RENN ) was listed couple of week ago on NYSE and company has offered a price of $ 12 to $ 14 per share that is 78 times its 2010 sales. Renren Inc was listed on NYSE and traded well above $ 20 on first day, but after announcements of LinkedIn price offerings, Renren Inc's stock has retreated more than 50 % and slipped below its issue price.
Read More
.
The pricing completed late Wednesday marks the final step before LinkedIn's shares are available in the public market for the first time in the company's eight-year history.
Analysts are expecting that stock will jump today after listing, although LinkedIn is offering shares 30 % above that earlier target price of $32 to $ 34.
The IPO puts a $4.3 billion market value on LinkedIn, the highest for a U.S. Internet company taking its first bow on Wall Street since Google went public nearly seven years ago.
(Source: Associated Press )