Stock of the company Smart Technologies Inc ( NASDAQ: SMT ) was plunged more than 20 % to $ 7.75 after company reported quarterly earnings that widely misses Analysts' estimate. Company issued full year guidance below analysts' expectations.
Below is the news release.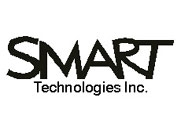 Smart Technologies Inc Logo
(Reuters) - SMART Technologies Inc's (SMA.TO) (SMT.O) quarterly profit missed estimates widely and the Canadian digital whiteboard maker said it continues to be impacted by budgetary issues in the education sector in North America.
SMART expects Q1 revenue to be lower by as much as 10 percent compared with last year as it continues to be hit by budget pressures in the North American education sector, chief financial officer Drew Fitch said on a conference call.
The company said it expects revenue in 2012 to be flat to five percent lower, while analysts were expecting a seven percent rise according to Thomson Reuters I/B/E/S.
January-March net income was $7.6 million, or 6 cents per share, compared with $10.6 million, or 6 cents per share, a year ago. Revenue rose 8 percent to $167.3 million.
Adjusted net income was 1 cent per share, way behind analysts' average estimates of 8 cents per share, according to Thomson Reuters I/B/E/S.
Analysts on average were expecting the company to post revenue of $163 million.
Shares of SMART, which went public in July 2010, closed at closed at $9.72 on Nasdaq. They closed at C$9.41 on Wednesday on the Toronto Stock Exchange.